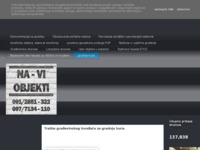 IN-završni radovi
Visits: 1383
Added: 24.8.2010.
http://trazimzagradnjukuce.blogspot.com
Description
IN-završni radovi, građevinski obrt, vl. Ante Jakelić, Virovitička 26, 10040 Zagreb, MB 92467148 Bavimo se građevinsko-obrtničkim radovima, 6 djelatnika, posjedujemo oplate za stropne i zidne kinstrukcije
Location
Location of this site was not found. If you know the address of this site, please contact the administrator.