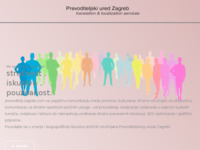 Traslation services
Visits: 1302
Added: 13.10.2004.
http://www.prevoditelj-zagreb.com/
Description
Prevoditeljski ured Zagreb pouzdan je i provjeren partner na području širokog spektra prevoditeljskih usluga. Jamstvo kvalitete su naši visokoobrazovani i iskusni prevoditelji, specijalizirani za pojedina područja, koji odgovorno pristupaju svakom prevoditeljskom zadatku.
Location
Location of this site was not found. If you know the address of this site, please contact the administrator.