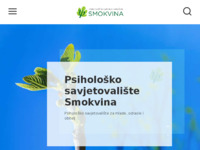 Psihološko savjetovalište Smokvina - Rijeka i Kraljevica - psiholog Bojana Smokvina J
Visits: 824
Added: 20.10.2010.
http://www.savjetovaliste-smokvina.hr
Description
Muči li Vas tjeskoba, stres, tuga ili depresija? Savjetovalište Smokvina djeci, mladima i odraslim osobama nudi psihološko savjetovanje, podršku ili jednostavno razgovor sa stručnom i neutralnom osobom – psihologom. Naučite nove, kreativnije i produktivnije oblike razmišljanja, ponašanja i emocionalnog reagiranja!
Location
Location of this site was not found. If you know the address of this site, please contact the administrator.