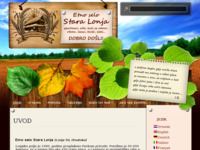 Ethno village Stara Lonja, Lonjsko polje
Visits: 939
Added: 10.1.2011.
http://www.etnoselo-staralonja.com
Description
Come to the heart of Lonjsko Polje, to the ethno village Stara Lonja situated in the village of Lonja and enjoy the intact nature, silence of oak woods, clean air, croaking of frogs and singing of birds. Come and be who you are once again, who you used to be without civilization, noise, rush and anxiety. Detachment form civilization, peace and quiet, intact nature, clean air, singing of birds, trips to Lonjsko Polje and nearby rivers, waking up in dewy mornings are only a few reasons to make you wish to come here. Come and be happy again!
Location
Location of this site was not found. If you know the address of this site, please contact the administrator.