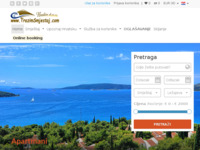 Accommodation in Croatia
Visits: 2523
Added: 8.6.2011.
http://www.trazimsmjestaj.com/hr
Description
Search our exceptional offer or travel arrangements for holiday in Croatia. Browsing sections private accommodation Croatia, Croatia hotels, villas Croatia, Croatia cruises and rent-a-car Croatia, find an ideal apartment, room, house, villa, hotel or cruise for yourself, your family or friends!
Location
Location of this site was not found. If you know the address of this site, please contact the administrator.