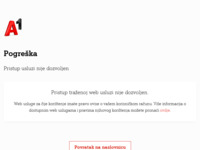 IR receiver
Visits: 2496
Added: 4.7.2002.
http://web.vip.hr/ir-prijemnik.vip
Description
Cheap modul for remote control your PC with an standard handheld TV, Video, or HiFi remote control unit. IR receiver is very sensitive, it can reach up to 10 m (33 ft.) and has a 80 degree angle of sight. On the back you see a cable (1,5 m) coming out, it connects to a serial port on your PC (9 pins).
Location
Location of this site was not found. If you know the address of this site, please contact the administrator.