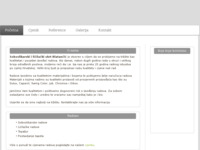 Soboslikarski i ličilački obrt Blatančić
Visits: 567
Added: 24.10.2012.
http://www.soboslikar-blatancic.hr
Description
Obrt je otvoren s ciljem da se probijemo na tržište kao kvalitetan i pouzdan izvođač radova, što danas, nakon dugih godina rada u struci i velikog broja odrađenih poslova, možemo reći da i je. Iza nas je preko 25 godina radnog iskustva po cijeloj Hrvatskoj. Veliki broj ljudi je prepoznao našu kvalitetu i cijene naš rad.
Location
Location of this site was not found. If you know the address of this site, please contact the administrator.