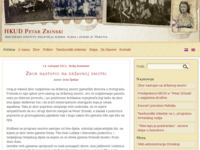 HKUD Petar Zrinski
Visits: 2284
Added: 28.11.2012.
http://www.hkud-petar-zrinski.hr
Description
Web site for HKUD Petar Zrinski from Vrbovec, small town near Zagreb, Croatia's capital. It's an amateur society interested in old and new music and dances, founded in 1912. It has more than 200 members in several sections, promoting a range of activities souch as quoir or etno music and old local dances.
Location
Location of this site was not found. If you know the address of this site, please contact the administrator.