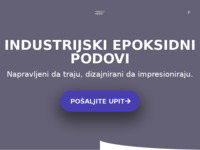 Marković - epoksidni podovi
Visits: 759
Added: 21.3.2013.
http://www.markovic-epoksidnipodovi.hr
Description
Ugradnja i postavljanje svih vrsta industrijskih i dekorativnih epoksidnih (EP) i poliuretanskih (PUR) podova: antistatičkih, samonivelirajućih, protukliznih, kiselootpornih, protuprašnih, debeloslojnih... EP i PUR smola ugrađuje se u stambenim prostorima, bolnicama, školama, vrtićima, skladištima i garažama. Prednosti im je što pružaju ekskluzivitet te dugoročnu kvalitetu, a uz to mogu se birati sve boje.
Location
Location of this site was not found. If you know the address of this site, please contact the administrator.