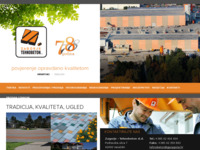 Zagorje-Tehnobeton d.d.
Visits: 1324
Added: 15.5.2013.
Description
Zagorje-Tehnobeton is a construction company with headquarters and central logistics in Varaždin in Croatia. It has had a tradition and a good business reputation since 1946. As a result of the quality of its buildings and expertise of its human resources, Zagorje-Tehnobeton placed itself at the top of the Croatian construction industry
Location
Location of this site was not found. If you know the address of this site, please contact the administrator.