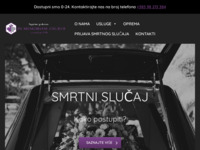 Funeral home In Memoriam
Visits: 559
Added: 22.5.2013.
http://www.pogrebno-inmemoriam.hr
Description
IN MEMORIAM - Zagreb d.o.o. je pogrebno društvo utemeljeno 1991.g. sa sjedištem u Zagrebu. Obavljamo organizaciju pogreba, osiguravamo ukopno mjesto i organiziramo prijevoz pokojnika u tuzemstvo i inozemstvo. Vršimo proizvodnju i nabavku cjelokupne pogrebne opreme. U trenucima gubitka najbližih, pomoći ćemo vam u organizaciji dostojanstvenog ispraćaja.
Location
Location of this site was not found. If you know the address of this site, please contact the administrator.