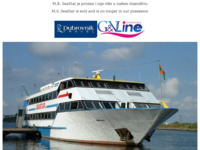 Jadranska krstarenja
Visits: 476
Added: 26.8.2013.
http://www.jadranskakrstarenja.hr
Description
The m/s Sea Star is a unique multifunctional venue ideal for daily business meetings, anniversaries, weddings, presentations, conferences and much more. The ship adds a mobile dimension to event planning as the ship can be used in many combinations – for transportation only, a a gala venue, meeting room, restaurant or a branded exhibition space. Ship of 400 passenger capacity is fully air-conditioned, equipped with audio-visual system, galley, bars and stabilizers with possibility to sailing along the Adriatic coast. Almost everywhere where there is water, the MS Sea Star can moor. Based in Dubrovnik, MS Sea Star is available throughout the length of the East Adriatic coast upon request making it ideal for intra city transfers, an extraordinary floating venue with endless possibilities. The ship's cruising speed of 12 knots provides easy access to Croatia's multitude of nearby islands and ports or to visit neighboring countries, while the built in stabilizers ensure a comfortable ride.
Location
Location of this site was not found. If you know the address of this site, please contact the administrator.