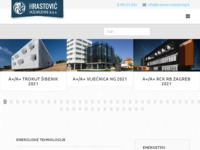 Hrastovic inzenjering
Visits: 1730
Added: 4.12.2013.
http://www.hrastovic-inzenjering.hr/
Description
Hrastović Inženjering d.o.o. develops since year 2004. into a company specialized for design and implementation of renewable energy sources. Fundamentals of project management for sustainable development of the society is to increase the energy efficiency of conventional installations and buildings, and design new hybrid solar energy systems. The whole living world runs and maintains its existence on a continuous flow of energy from the Sun, and by applying transformational technologies the Sun could meet the total energy needs of society. The company applies basic principles of sustainable society and community through the creation of projects that are based on the use of locally accumulated or the application of direct solar radiant energy, for which we have the authority to design mechanical installations. We participate in multidisciplinary teams that perform energy audits and energy certification of buildings to increase energy efficiency of existing buildings and heating systems. At the same time we are counselors for new energy projects and plus zero energy buildings with high efficiency. We are members of the Greenbuilding organization that promotes green lifestyle and in 2011. we received special recognition for the project of plus energy building and recived award for most innovative project in GreenBuilding.
Location
Location of this site was not found. If you know the address of this site, please contact the administrator.