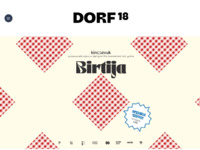 Festival of music documentaries DORF Croatia
Visits: 1105
Added: 13.12.2013.
http://www.filmfestivaldorf.com
Description
Festival itself is only urban happening in our region (Vinkovci – Eastern Slavonia), unique and special in whole Croatia by it's purpose and substance. Many visitors and audience recognized it: DORF has a great response among the movie-fans but, also, music fans.Geographical position on far east of Croatia, near to Bosnia, Serbia and Hungary, gives possibility to promote this movie genre and new ideas and also connect city and county with others.This major event originated in 2007.
Location
Location of this site was not found. If you know the address of this site, please contact the administrator.