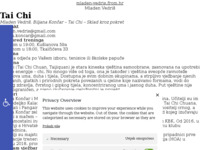 Tai Chi - Mladen Vedriš, Biljana Končar
Visits: 527
Added: 22.1.2014.
http://mladen-vedris.from.hr/taichi/
Description
Tai Chi Chuan is an ancient Chinese martial art, based on using the vital energy - chi. And much more than that, it is also the art of overall balance of human mind, body and spirit. It is available to people of all ages, and patient practise of its slow, smooth and natural movements, connected to sequences which we call forms, leads to good health, strong and flexible body, concentrated mind an clear spirit. The way of Tai Chi is unlimited, and study of this art is a lifetime project.
Location
Location of this site was not found. If you know the address of this site, please contact the administrator.