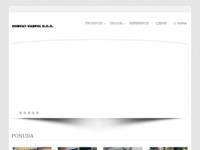 Horvat Varpol d.o.o.
Visits: 637
Added: 22.1.2014.
Description
Horvat-Varpol d.o.o. je obiteljska tvrtka. Naš proizvodni program se sastoji od kovanih i inox ograda, vrata, stepeništa (ravne ili kružne stepenice), nadstrešnica, rukohvata, elemenata za ograde, kovanog i modernog (inox) namještaja.
Location
Location of this site was not found. If you know the address of this site, please contact the administrator.