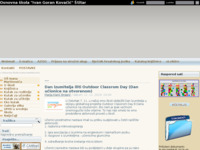 Primary school Štitar
Visits: 938
Added: 13.3.2014.
http://os-igkovacic-stitar.skole.hr/
Description
This a Website of Primary school Štitar. On our site we regularly report on events in our school and publich students papers. We also publish some new ideas in this sections every week : Quote of the week, Joke of the Week, Tip of the Week ... we also suggest ideas for making something and advise you how to draw something.
Location
Location of this site was not found. If you know the address of this site, please contact the administrator.