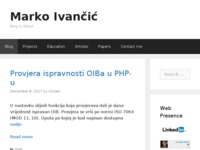 Marko Ivančić personal blog
Visits: 376
Added: 9.6.2014.
http://www.markoivancic.from.hr
Description
Blog about topics that caught my eye and about which I have something to say. Here you can also find presentations, seminars and thesis that I wrote in college, and the books on which I worked in my spare time.
Location
Location of this site was not found. If you know the address of this site, please contact the administrator.