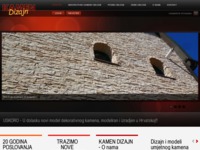 Floor and wall coverings Stone Design d.o.o.
Visits: 678
Added: 29.8.2014.
http://www.podne-zidne-obloge.com
Description
Production and sales of decorative stone floor and wall coverings. STONE DESIGN - The company that manufactures artificial decorative stone which is the most credible and convincing artificial stone that is produced in this region. Stone Design for a complete range of production of stone wall and floor coverings made of stone design to mold making.
Location
Location of this site was not found. If you know the address of this site, please contact the administrator.