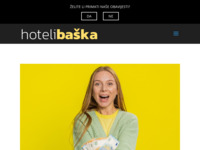 Hotel Corinthia Baška, Krk
Visits: 422
Added: 10.5.2015.
http://www.hotelibaska.hr/hr/hoteli/hotel-corinthia-baska/pregled
Description
The hotel complex Corinthia-Baška consists of 3 interacting parts. The continuous renewal of the hotel with the purpose of giving the best possible services, the selected and heterogeneous gastronomic offer and the recreation contents are rewarded with the increasing number of visitors and the prolonged touristic season till the autumn months. It is located up the sea and it was constructed in three phases. Together with its central nucleus, which was terminated in 1999, they are the heart of tourism in this magic part of the Adriatic. If you would like to widen your gourmet experiences you must visit our bistro Funtana that is located on the hotel ground floor and it has a big beautiful terrace. There you'll find a wide assortment of different Mediterranean and other delicacies of your choice. On the terrace of the bistro Funtana every night you can enjoy in the music, dance and in the animation program through which you would be lead by our animators.
Location
Location of this site was not found. If you know the address of this site, please contact the administrator.