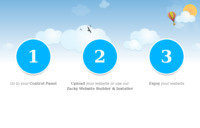 Apartments Davor
Visits: 343
Added: 13.5.2015.
http://www.apartments-davor.hr
Description
pend the summer by sea and sun, located in one of our apartments. Holiday house in an idyllic setting on the edge of the forest, a place for your holiday, if you love the summer in the countryside near the sea. You can spend a day in nature, walking, riding a bike , climbing or waiting the sunset on kayak... The island of Krk and Baska are only a few hours away from the main European centers: 740 km from Prague, Munich 650 km, Budapest, 630 km, 580 km of Vienna, Graz and Ljubljana 400 200 km. Baska Draga is located in the south of the island, in the center of Baska valley, on the road leading from Krk to Baska. In the northern part of the valley dominated by hilly terrain, while the southern (lower) part of the valley is rich fertile soil, which for centuries has been intensively farmed. Through the valley flows the only permanent water flow on the all Adriatic islands, Suha Ričina or Vela Rika.
Location
Location of this site was not found. If you know the address of this site, please contact the administrator.