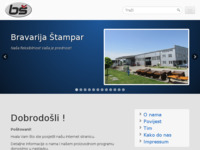 Locksmithery Stampar Ltd.
Visits: 538
Added: 31.8.2015.
http://www.bravarijastampar.hr
Description
Production of various welded metal construction and industrial assemblies mainly of structural steel are our main field of activities. We specialize in producing waste incineration plants and various assemblies and parts for the industry. In the market we are present since 1992. Our years of experience is excellent guarantee of quality. In November 2013 we moved to new business premises in the industrial zone in Prelog.
Location
Location of this site was not found. If you know the address of this site, please contact the administrator.