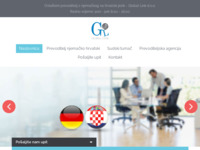 Translator from German into Croatian
Visits: 442
Added: 30.9.2015.
http://prevoditelj-njemacko-hrvatski.com/
Description
Translation Agency from Zagreb "Global Link" offers translation services of general texts from German into Croatian, technical texts from various fields, Web sites and business correspondence national and international clients from different sectors of the economy. Translation from German to Croatian language is a complex product on whose work the realization of our carefully selected language specialists. Their education and specialization meets the demanding and exacting standards as financial, legal, medical, technical and scientific documentation. Give yourself a translation from German into Croatian professionals and order a free estimate today. Specify the language in which you would like to translate documents and to where you would like to translate it done, and we will submit an offer with a specific price that always depends on the complexity of the text, the direction of translation, languages, and time in which the translation must be supplied. For approximate prices see our list of translation.
Location
Location of this site was not found. If you know the address of this site, please contact the administrator.