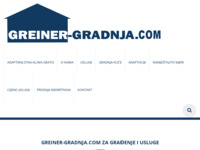 Greiner gradnja d.o.o.
Visits: 2113
Added: 13.10.2015.
Description
The majority of our business is based on a turnkey basis, which means that we participate in projects from start to finish all the works envisaged. In this way we simplify the business investor-client, because there is one person responsible for all the work.
Location
Location of this site was not found. If you know the address of this site, please contact the administrator.