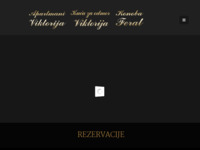 Apartments Jadranovo - Tavern Feral
Visits: 375
Added: 19.4.2016.
http://apartments-jadranovo.info/
Description
Apartaments Jadranovo are located in Jadranovo by the sea. All the turists contents are in immediately vicinage. Modern and functionally equipted will ensure you a pleasant and peaceful vacations. Capacity of each apartament is 4-5 persons. Relaxed atmosphere , murmur of the sea waves , picturesque sunsets make make this property an ideal destination for your holiday.
Location
Location of this site was not found. If you know the address of this site, please contact the administrator.