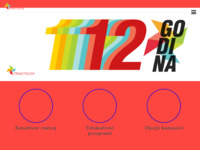 Udruga Praktikum
Visits: 1326
Added: 13.2.2017.
http://www.udruga-praktikum.hr/
Description
Udruga PRAKTIKUM was founded in January 2013 with the aim of improving the quality of life of children and young people. When working with children and young people creative We paint, sing, dance, acting, filming, editing and directing a film, we learn some most difficult subjects in an interesting way, of little we learn about the area we live in, but above all, laugh and have fun. We think the other and we want to be human and to help others. Our programs are implemented with the help of expert guidance renowned theater and film directors, actors, academic musician and sculptor as well as experts in the field of non-formal education.
Location
Location of this site was not found. If you know the address of this site, please contact the administrator.