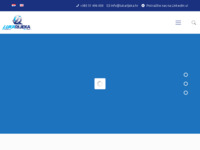 Port of Rijeka j.s.c.
Visits: 4210
Added: 26.7.2004.
Description
The Port of Rijeka is the biggest port on the Adriatic and also the most important port in Croatia. Situated in the heart of Europe, it represents the southern gate to international commercial links between Europe and overseas. It lies on the shortest transport route linking commercial centres in the Central and Eastern Europe with both Mediterranean countries and countries along the Suez. Luka Rijeka j.s.c. is a market oriented joint-stock company whose primary activities are: loading, unloading, warehousing, transportation of general cargo, timber, bulk cargo, cattle, bananas, tropical and other fruits, wheat, soya beans and other cereals; then mooring an unmooring ships on Luka Rijeka port's area and performing the other economic activities as are for example servicing and maintaining port's mechanics, the objects for superstructure and infrastructure, cargo lashing, covering and insuring the cargo and transport vehicles, using the objects for superstructure, infrastructure and sea aquatory, and quality and quantity merchandise control.
Location
Location of this site was not found. If you know the address of this site, please contact the administrator.