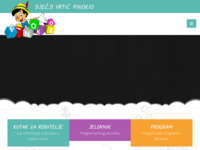 Kindergarten Pinokio
Visits: 344
Added: 12.5.2017.
http://djecji-vrtic-pinokio.hr/
Description
Kindergarten "Pinokio" in 2004 founded the Scientific research and educational organization for children and youth of Roma Region of Bjelovar. In our educational work we use a variety of approaches which involves creating quality relationships and communication between educators, parents and children. 10 HOUR PROGRAM We offer a ten-hour program for children from three years to school age EDUCATION OF CHILDREN Learning foreign languages and other programs of artistic and cultural content DAILY ACTIVITIES We are planning daily activities of children PROGRAMS FOR GIFTED CHILDREN We offer programs for gifted children of preschool age PROFESSIONAL STAFF Hard-working teachers and professional associates provide complete care for your child
Location
Location of this site was not found. If you know the address of this site, please contact the administrator.