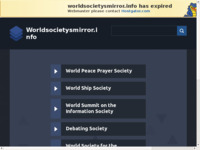 WorldSocietsyMirror
Visits: 588
Added: 3.10.2017.
http://www.worldsocietysmirror.info
Description
On this page you can report all types of corruption you know and have the evidence that you want to find out and not remain hidden. Feel free to apply to anyone in a company that has or will have access to corruption as the most widespread crime branch.
Location
Location of this site was not found. If you know the address of this site, please contact the administrator.