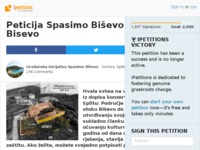 Petition Biševo
Visits: 666
Added: 16.1.2018.
http://www.ipetitions.com/petition/spasimo-bisevo-od-betoniranja
Description
The citizens' initiative aims to prevent the Dalmatian island gem from getting covered in concrete.​ Unauthorised construction works are currently taking place near the church of St Silvester and the medieval monastery.​ The illegal works are negatively affecting the peaceful ambiance of Poje, the town that used to be the centre of life on Biševo. The Biševo Island Artist Residency launched a petition appealing to the Conservation Department in Split to visit the location and protect the priceless archaeological site from devastation that might result from illegal construction. This is the only way for us to alert the public of the outrageous violation of the law and the terror that is getting inflicted on the cultural and natural heritage of Biševo island
Location
Location of this site was not found. If you know the address of this site, please contact the administrator.