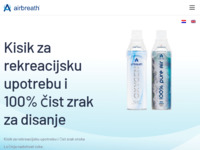 airbreath® OXYGEN – Pure breathing oxygen in a bottle.
Visits: 590
Added: 11.11.2019.
Description
airbreath® OXYGEN is 99.5% pure oxygen for recreational use and and has been tested by the Analytical and Toxicology Laboratory as well as by the Andrija Stampar Teaching Institute of Public Health. It is useful for athletes, recreationalists, mountaineers, riders as well as students and youth. With highly clean oxygen supplied to the body, muscles can regenerate faster and people with very weak respiratory systems can breathe easier. Also, oxygen helps with recovery and increases endurance and energy when needed.
Location
Location of this site was not found. If you know the address of this site, please contact the administrator.