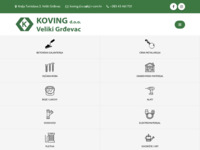 Koving d.o.o.
Visits: 25
Added: 19.10.2020.
https://koving-zeljezarija.hr/
Description
Tvrtka Koving d.o.o. osnovana je 1998. godine kao trgovina mješovite robe. Samo nekoliko godina nakon toga, tvrtka kreće u drugom smjeru i u Velikom Grđevcu sa radom kreće željezarija i trgovina građevinskim materijalom, a 2003. godine još jedna željezarija u Velikom Grđevcu.
Location
Location of this site was not found. If you know the address of this site, please contact the administrator.