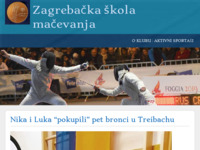 Fencing Club Zagrebacka skola macevanja
Visits: 4281
Added: 21.10.2004.
http://www.skola-macevanja.hr/
Description
Our page contents all basic information about our club as well as fencing as a sport. So there are information where, when and how are we training, how are we getting along, how we make fun, there are also our pictures and results as well as the gallery of the pictures from the latest tournaments. Everybody is welcome to enrol our guests-book and to attend the forum.
Location
Location of this site was not found. If you know the address of this site, please contact the administrator.