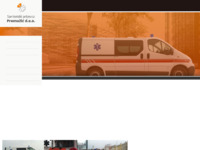 Premuzic prijevoz d.o.o.
Visits: 3397
Added: 19.8.2002.
http://www.ambulantni-prijevoz.hr/
Description
First Croatian company with means of transport of people with temporary and permanent moving dysfunction. That eased pressure on public services and introduced private initiative on that particular medical field. Transport with waiting and returning, suitable for performing private or medical needs of our customers- Transportation between any two locations, not only medical facilities and centers- Possibility of conforming extra care during travels (like infusions, oxygen, etc.)- Possibility of medical attention during travels.
Location
Location of this site was not found. If you know the address of this site, please contact the administrator.