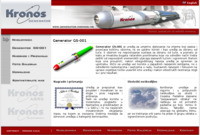 Kronos d.o.o.
Visits: 2163
Added: 19.3.2007.
http://www.generator.kronos.hr/index.php
Description
Generator GS-001 je uređaj za umjetno djelovanje na vrijeme koji izaziva i povećava količinu oborina, te se ujedno koristi i kao uređaj za obranu od tuče. S obzirom na nepostojanje sustava za obranu od tuče, a poznato je kako je Hrvatska bogata ratarskim površinama koje na određen način treba zaštiti od nepovoljnih vremenskih utjecaja izazvanih tučom i ogromnom štetom koja ona prouzroči, nakon višegodišnjeg razvoja uređaj je spreman za upotrebu.
Location
Location of this site was not found. If you know the address of this site, please contact the administrator.