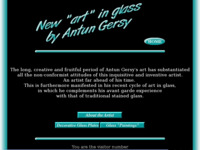 Antun Gersy - new art in glass
Visits: 1975
Added: 26.6.1998.
http://www.appleby.net/gersy.html
Description
The long, creative and fruitful period of Antun Gersy's art has substantiated all the non-conformist attitudes of this inquisitive and inventive artist. An artist far ahead of his time. This is furthermore manifested in his recent cycle of "art" in glass, in which he complements his avant garde experience with that of traditional stained glass.
Location
Location of this site was not found. If you know the address of this site, please contact the administrator.