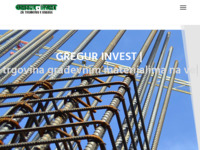 Gragur invest d.o.o.
Visits: 1693
Added: 11.4.2005.
Description
Gregur-invest d.o.o. sells building materials, produces fert-beams and deals in international transport. On cca. 3000 square meters both opened and closed space you can find a complete material for house building, delivery included. Company operates since 1998 in Ivanec.
Location
Location of this site was not found. If you know the address of this site, please contact the administrator.