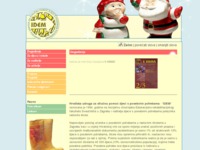 Croatian Association for Professional Aid to children with special needs
Visits: 8506
Added: 2.5.2000.
http://www.specialneeds.htnet.hr/
Description
Croatian Association for professional aid to children with special needs was founded in 1994. Members of the Association come from the area of special education, medicine and education, including the parents and other citizens who want to help children and adolescent with special needs.
Location
Location of this site was not found. If you know the address of this site, please contact the administrator.