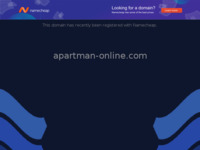 Apartman Online
Visits: 6599
Added: 1.6.2005.
http://www.apartman-online.com/
Description
Apartman Online offers you the easiest way to find your vacation room or apartment in Croatia! There are pictures and detailed informations for every room/apartment about all the conveniences, that it offers (for example: distance from the sea or from the center of the town). There is also a schedule. You can immediately find out which periods are available and you can determine the total-sum for that period (30 % of the total-sum has to be paid in advance and the rest of the amount is being paid, when you are using the rented apartment or a room).Rates of exchange help you to find out the price in the currency you request. You can fill up the reservation questionnaire at the end.
Location
Location of this site was not found. If you know the address of this site, please contact the administrator.