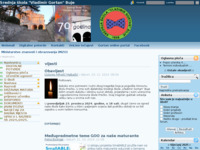 High school Vladimir Gortan Buje
Visits: 2119
Added: 3.6.2002.
http://www.ss-vgortan-buje.skole.hr/
Description
This web site provides elementary information about High school "Vladimir Gortan" Buje. You can find informations about educational programes and informations about applying and the selection procedure as well. You can also find a short history of our school and the list of our students and our employees, including their photographs.
Location
Location of this site was not found. If you know the address of this site, please contact the administrator.