Marija Jurić, best known under the pseudonym "Zagorka", was the first Croatian professional journalist and the most read Croatian writer. Her turbulent private life, largely caused by her untypically free behaviour for a woman of that time, reflected her writing as well.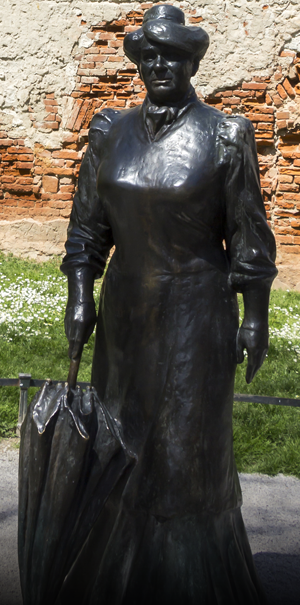 In addition to advocating women's rights, she also fought against Hungarisation and Germanisation of Croatian language and social discrimination. She was born in 1873. At the age of 17 she entered into an agreed marriage with a Hungarian clerk who, together with his mother, physically and mentally abused her. Zagorka then fled back to Croatia where she succeeded in getting a divorce. Throughout her life, she was followed by humiliation and underestimation. Because of her physical appearance and origin, she was called a cowgirl due to the fact she was raised in the village, and due to the violation of social norms that did not allow women to work in politics and journalism, they talked about her as a "mad masculine hag".
For her journalistic work she was paid far less than her male counterparts and often had to sign her work with male pseudonyms. She wrote more than thirty novels that challenged the critics of the intellectuals at the time, but broad audiences accepted them extremely well and still read them readily. She herself emphasized that the greatest value of her novels in promoting literary culture in Croatia and promoting Croatian history, culture and language.