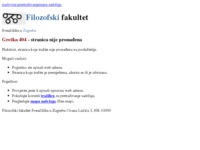 Chair of Librarianship
Visits: 2313
Added: 26.6.1998.
http://www.ffzg.hr/infoz/biblio
Description
Library and information science school - LIS. Academic education of the librarians. Curricula of the LIS educational programme. Courses. Chair of Librarianship is a part of the Department of Information Sciences
Location
Location of this site was not found. If you know the address of this site, please contact the administrator.