The polyphonic a cappella singing is called klapa singing, a tradition dating back to the mid-19th century to the far south of Croatia. Nevertheless, the Dalmatian klapa song got its successors in the northern Adriatic, and it was popularized in the interior of Croatia as well as in diaspora.
Klapa singing excludes accompaniment to musicians, but also conductors, and is sung so that the highest voice takes the song and then includes other singers. The term klapa roots draws from North-Italian, specifically the Triestine dialect, meaning "a group". For a long time, this group referred to five to ten male singers, but over time a mixed and female klapa were developed. The lyrics of klapa songs are mostly romantic, and are pervaded with the motives of nature and homeland.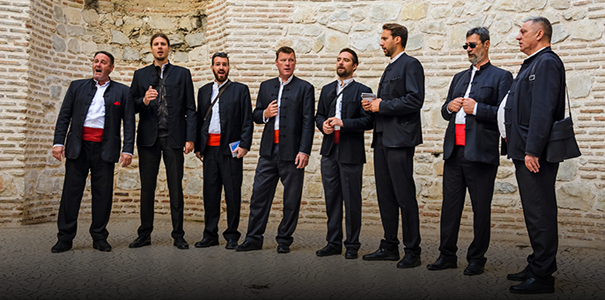 While in the past the klapa performed exclusively traditional tunes, today's repertoire includes a whole range of new compositions. This departure from the roots and from traditional klapa singing is actually a festival-type klapa. The most famous klapa festival is the one in Omiš, while dozens are held in other parts of Croatia - in Buzet, Kaštela, Murter, Split, Senj, Stobreč, Volosko, Zagreb, Skradin, Marija Bistrica ... Any traditional or festive singing can certainly be considered a guardian of tradition and musical folk heritage. In December 2012, UNESCO has included klapa singing onto the list of immaterial world heritage in Europe.
One of the most popular klapa performances is the performance of the klapa Cambi at the funeral of the first Croatian president Franjo Tuđman.