Licitar is a colourful decorated cake of sweet honey dough that draws its roots from the Middle Ages. It is characteristic for the central and lowland regions of Croatia, from Karlovac, through Zagreb and Koprivnica, to Varaždin. The craftsmen who created them in the 18th century were considered to be reputable, and their licitars were mostly bought by nobility.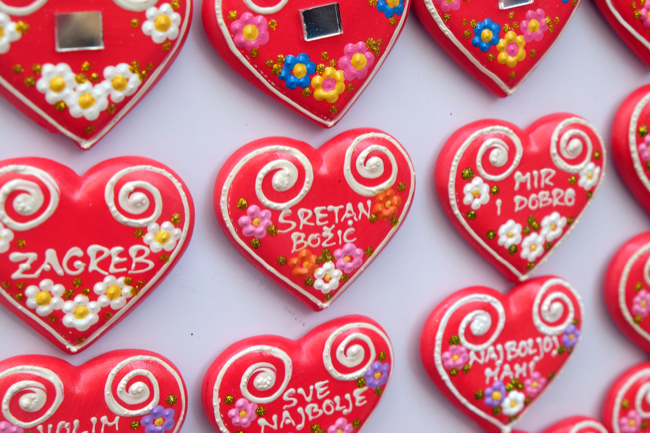 Since then, the custom of giving a licitar heart has been living. The young man showed his girlfriend affection and love, and this custom was also shown in the ballet of Krešimir Baranović called the Licitar's heart. To date, this custom has been rooted, and is especially applied to the holiday of the romance - Valentine's Day.
In addition to the heart shape, the licitars are made in various other shapes - cherry, horses, birds, babies, horseshoes ... They are traditionally red in colour and are decorated with sugar mass and mirrors. They also decorate Christmas trees and can serve as a present at the holiday season of the year.
Licitar today represents a national symbol and this Croatian traditional souvenir is recognized also by UNESCO. Namely, in 2010, UNESCO added the Gingerbread craft from Northern Croatia to the "Representative List of the Intangible Cultural Heritage" for Croatian culture.