Croatian architecture has a long and rich history. Even prehistoric cultures have left their traces in Croatian areas, but a special architectural story on today's Croatia begins with the period of antiquity.
The Amphitheatre in Pula is one of the most preserved monuments of that time. It reveals to its visitors on a daily basis old gladiator battles and leaves them breathless with its size and construction. The Arena was built in the 1st century, and one of the legends says that the emperor Vespasian had it built in honour of his mistress, Antonia Cenidi, who had estates in Pula.
Apart from Istria, the ancient track is also visible in Split, in the walls of Diocletian's palace. Emperor Diocletian had it built at the turn from 3rd to the 4th century and to this day it attracts people of Split and their tourists. Since 1979 it has been a UNESCO World Heritage list.
A bit younger Euphrasian basilica in Poreč was put on the UNESCO World Heritage List in 1997. It is an Early Christian church built in the 6th century, during the Bishop of Euphrasius and Emperor Justinian I.
The church of St. Donatus in Zadar from the 9th century stands out in the old Croatian architecture. Its specialty is in an unusual cylindrical shape. The church is 27 m high and 22 m wide. St Donatus, a bishop of Zadar, had it built, but the church carries his name only from the 15th century.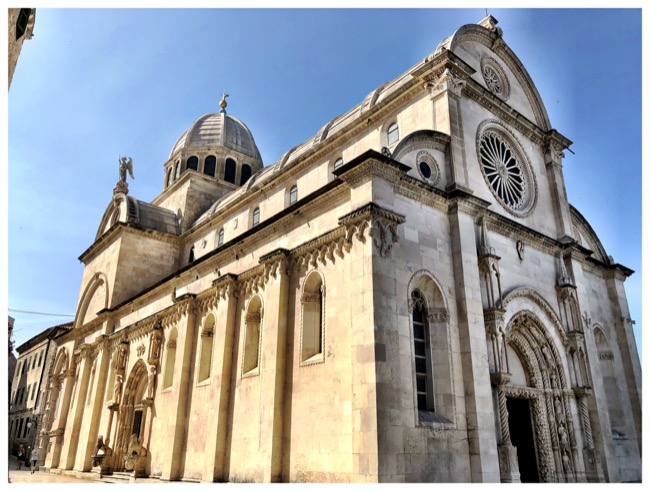 At that time the construction of the St. Jacob cathedral in Šibenik, that was included in the UNESCO World Heritage List in 2000. The construction lasted from 1431 to 1536, and represents the separation of Šibenik from Trogir and the foundation of its own diocese.
Much earlier in the 11th century, the Zagreb Diocese was founded with a little church, which was located on the site of today's Zagreb Cathedral. But the construction of the same, full name of the cathedral of the Assumption of the Blessed Virgin Mary and to holy Stephen and holy Ladislaus begins two centuries later, and the last reconstruction is made in the late 19th century. The Zagreb Cathedral is the largest Croatian sacral building.
Saint Peter's Cathedral in Đakovo was built in Neo-Romanic style in 1882. From the same period is the Neo-Baroque Croatian National Theatre in Zagreb, which is from Đakovo cathedral only 13 years younger.
One of the most significant examples of 20th century architecture in Croatia is certainly the Meštrović Pavilion in Zagreb, the work of Ivan Meštrović from 1938.