Moreška is a romantic battle sword dance, which is performed regularly in Korčula during the summer months, and unavoidably on July 29, on St. Todor's Day, the patron saint of the town. It is protected as immaterial cultural good, which for people of Korčula is much more than just a folklore performance.
In this performance, textual, musical and choreographic elements combine to tell the story of the struggle of two armies for the beauty called Bula. She was abducted by the Arab king Moro what was the cause of the battle of the armies of the black and the white king. The story has a happy ending, and is the return of Bula to the beloved Turkish King Osman.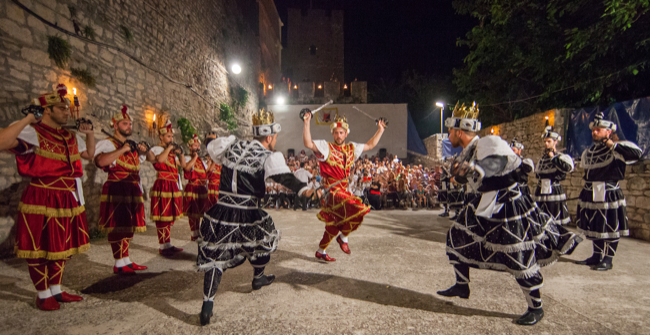 It is assumed that Moreška arrived to Korčula from Spain and across Italy. It was rooted here more than 350 years ago and has been continually performed since. The first mention of Moreška dates back to 1666 when several citizens of Korčula informed the local authorities against performers for long-lasting entertainment. The prince refused them, arguing that special rules of conduct were in force at the time of the Carnival, when this all had happened.
For many decades the tradition of performing Moreška has been preserved by the Cultural Art Society Moreška, which, among other things, is proud of the music theme of Moreška. Namely, in 1937 Krsto Odak compiled the musical composition, and the same has been performed since then continuously.
It must be emphasized that Moreška represents Korčula's identity and pride, as well as the centuries-old struggle for freedom. On the other hand, even passersby remember this spectacle for a long time.
For more read: